I began teaching English courses at Eastfield College in 2012, right after completing my first graduate degree. A year later, I was hired on as a Visiting Scholar in developmental English, where I worked with full-time faculty to streamline the pre-college pathway in reading and writing. After two years as a Visiting Scholar, I was offered a full professorship at the college, where I have happily taught ever since. During that time, I have completed a number of projects and initiatives, some of which include graphic assets with their descriptions below.
Enrollment
 & Registration Brochures
​​​​​​​
The following tri-fold was created to enhance student enrollment during peek registration periods, one of every school's annual objectives. I designed and produced these pamphlets to inform students about available course options, special programs and topics, as well as literary student publications they might be interested in.
This pamphlet was created while serving as Faculty Co-Coordinator and Dual Credit Coordinator.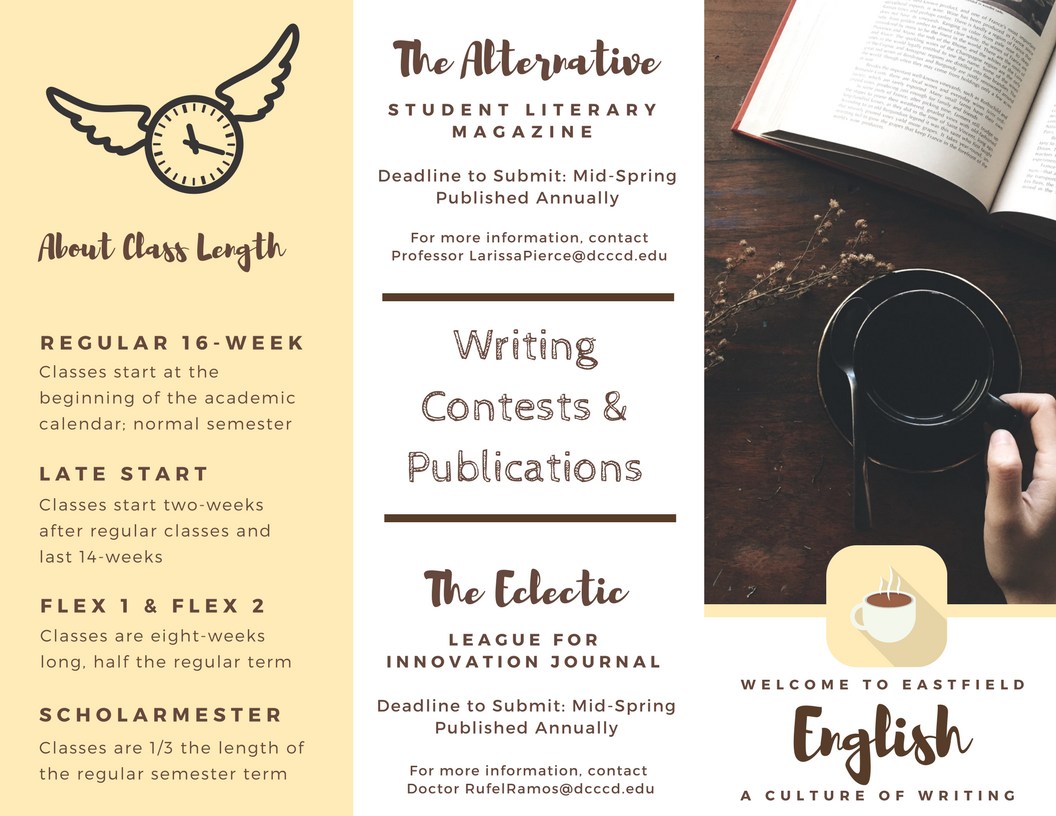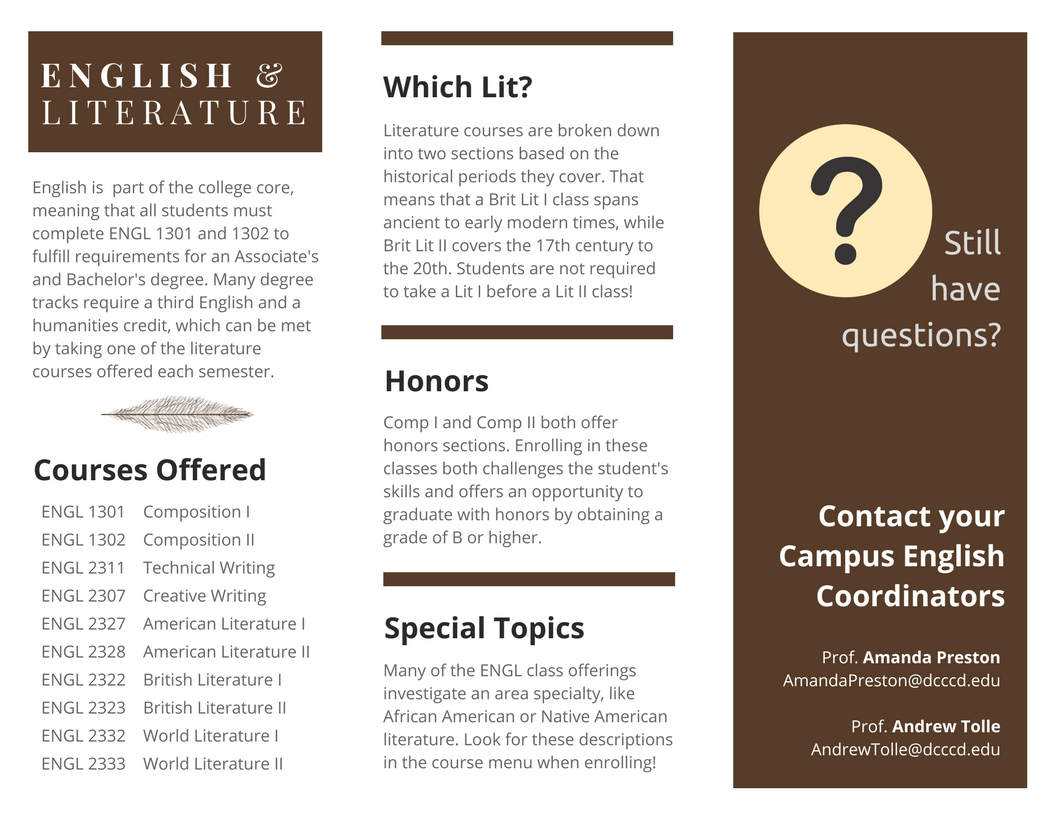 PR Graphics: Email, Digital Sign, & Poster
For this project, I coordinated, recruited, and designed promotional graphics. The event is produced as part of the College's annual Literary & Fine Arts Festival; this program is one I have coordinated since 2015. Each year, the readings focus on student authors and faculty publications. However, this year, to expand the scope of the event, I invited a local featured poet as a keynote and then invited additional participation with an open mic following the guest reader.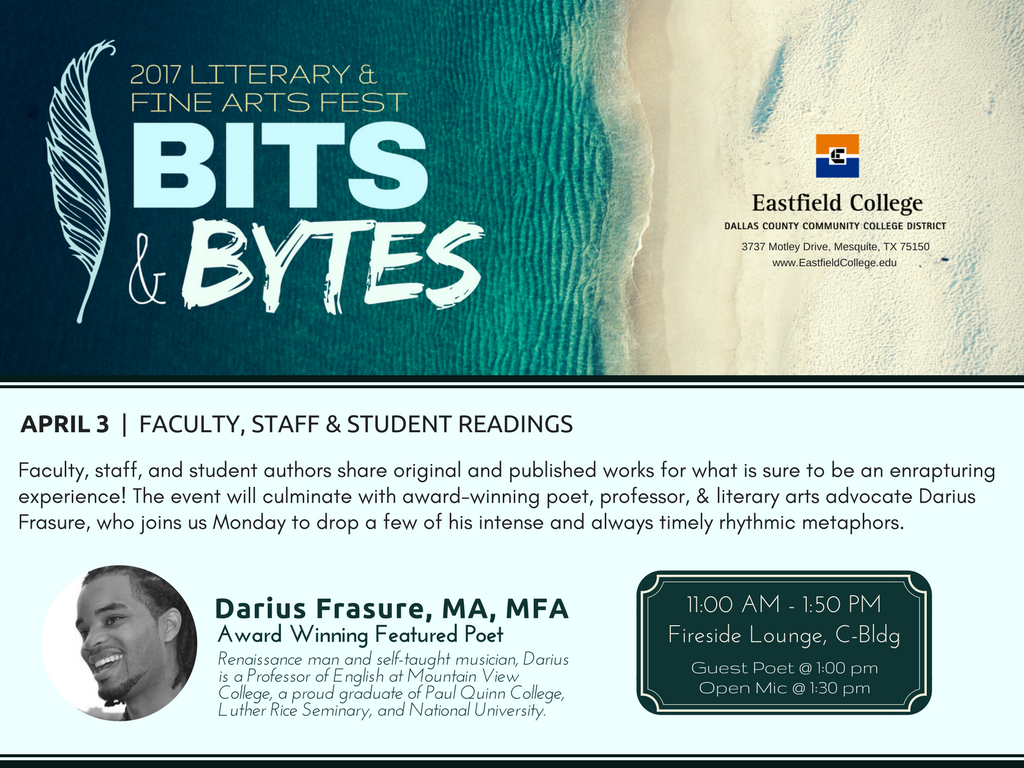 PR Poster & Program Direction
This program was developed in collaboration with the 2017 Common Book Project as a Women's History Month event. Six female professionals were recruited to sit on a panel discussion focusing on women's experiences in the workplace, stereotype threat, and perseverance. The college's Associate Vice President of Instruction served as panel moderator.
This event was one of the most attended and well-received of the 2017 Common Book program, according to student, faculty, and staff surveys collected by the Eastfield College Office of Student Engagement & Retention. 
At this event, I also organized to have a deputized Voter Registrar present and collected feminine hygiene products to donate to the Dallas Women's Shelter. Over $300 worth of goods were collected between March and May. 
The first poster is my original, used to solicit panelists and promote the event on social media. The second image was created by the college's Graphic Design team for internal communications.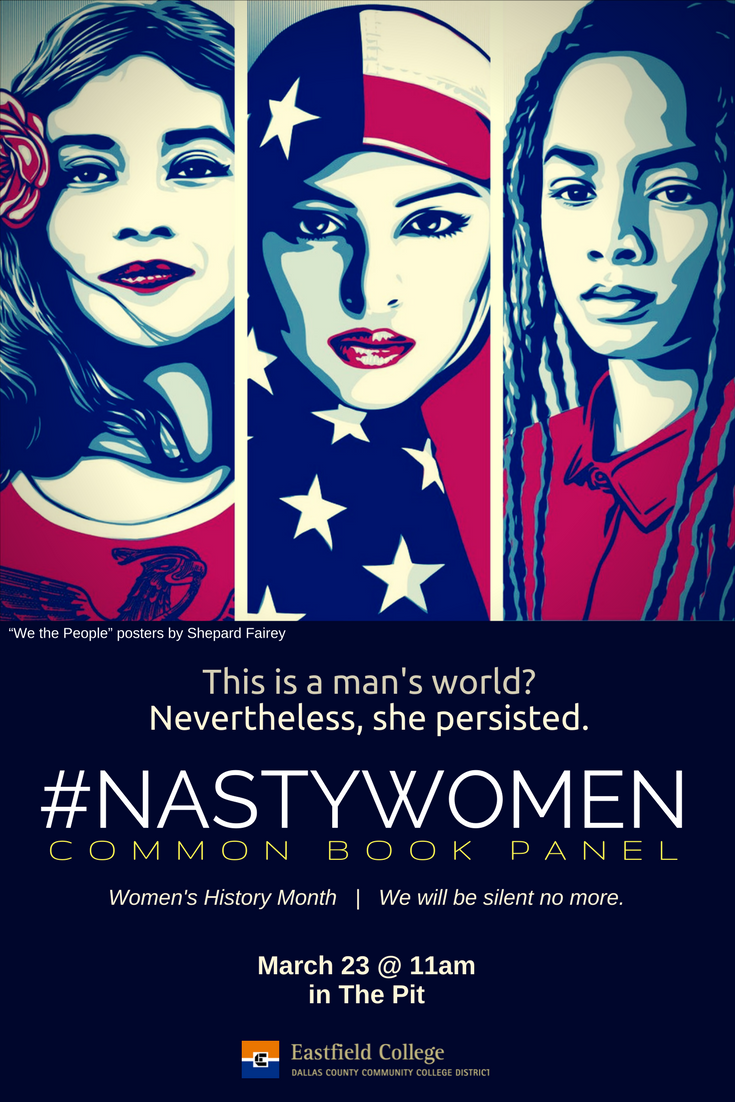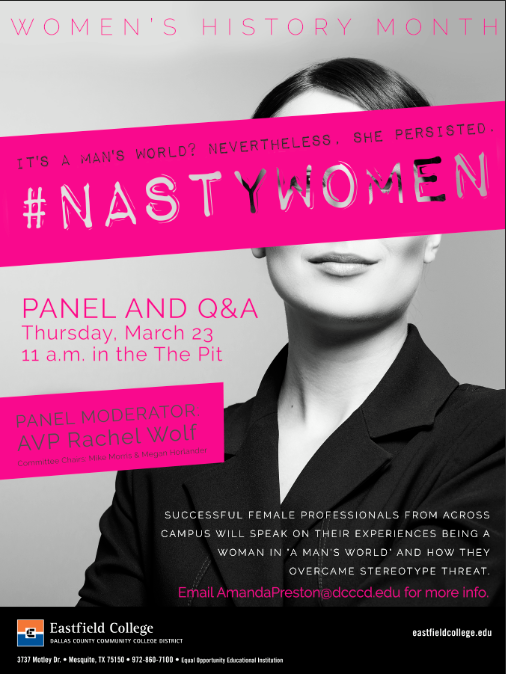 Program Coordination & Event Hosting
This event was one of the most attended of the 2016 - 2017 Common Book Events Calendar, with the greatest diversity in academic disciplines; both lectures had standing room only. For this program, I recruited UT Southwestern's bioethics faculty to address thematic issues relevant to our book selection and current student interests. Following the event, thank you notes were collected from students, faculty, and staff who attended his talks. Dr. Fred Grinnell, ended up winning UT Southwestern's Piper Professor award a few months later.
For this program, graphics were produced by the Eastfield College designers.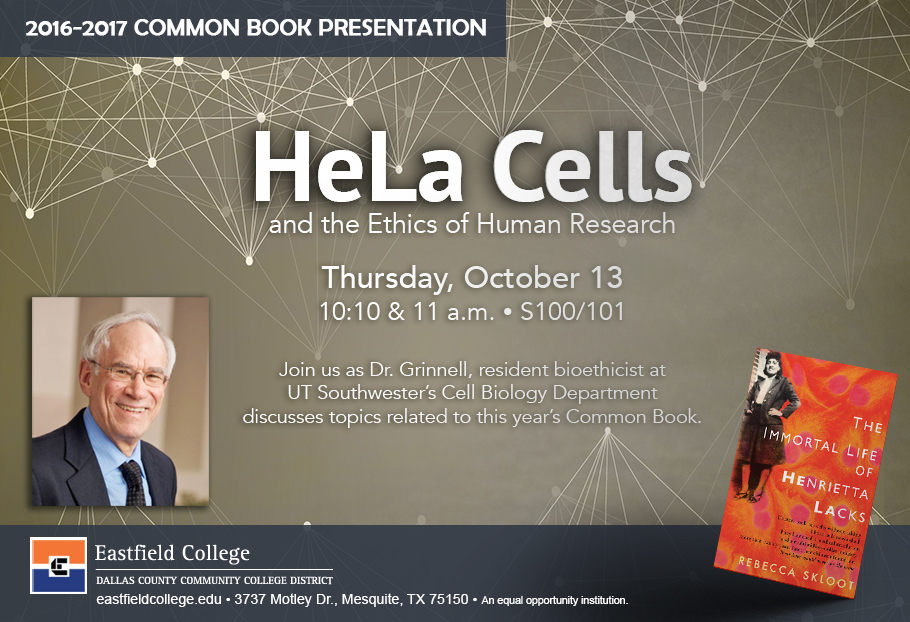 Speaker Recruitment & Event Coordination
As the 2013 - 2015 Common Book Committee Co-Chair, one of my roles was to coordinate the annual program calendar, hosting one event a month. For the 2014 - 2015 academic year, the common book selection was Ray Bradbury's

The Illustrated Man

. 
I recruited Dr. Lars Krutak from the Smithsonian Institute because of his expertise in body art, the title metaphor and essential element of the author's frame narrative: tattoos are the starting point of each short story in the book.
This event was one of the best attended and well received of the year.
The email graphic below was created by Eastfield College graphic designers.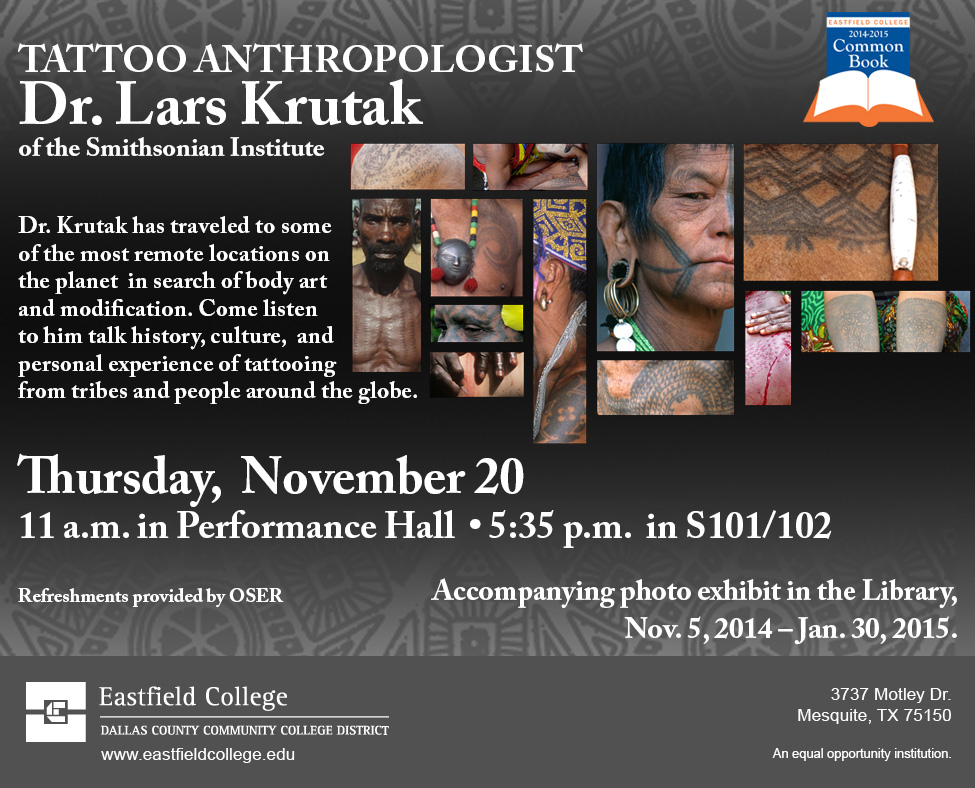 Speaker Recruitment & Event Coordination
The program calendar for Common Book this year examined both thematic and literary elements of the text selection. To address what storytelling is and it's value to the human condition, understand our place in the world, and how narrative can be used to face or even test causal chains of events, I recruited UT Dallas's Founders Professor, Dr. Frederick Turner, Dallas's resident epic poet and multiple nominee for the Nobel Prize in Literature.
Dr. Turner did a reading of his science fiction epic that was just published, followed by a Q&A and book signing. He also donated a couple of his previous works for raffle prizes and gave a signed copy of

Apocalypse: An Epic of the Future

to the Eastfield College Library.
The poster below is one I created to promote the event online and in internal communications, using assets designed by the Eastfield College graphics department.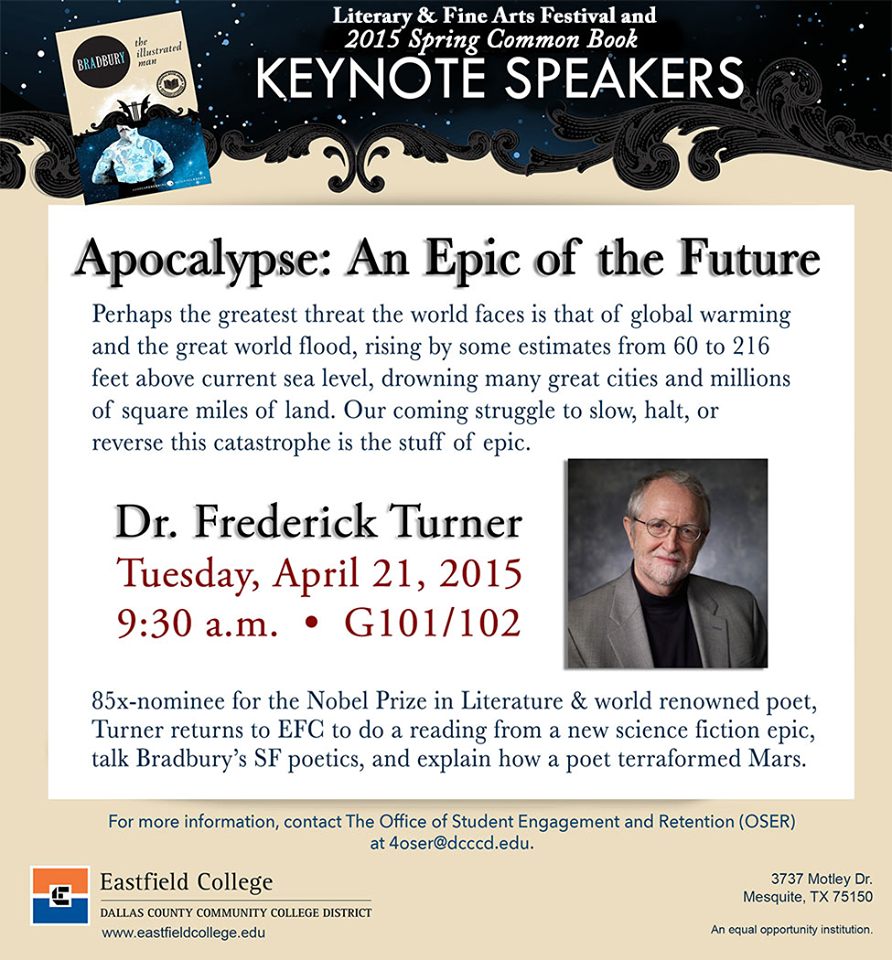 This graphic I designed for internal email communications and was provided to the college's Convocation Week program committee to present as the formal announcement to all faculty and staff that the Common Book selection for 2016 - 2016 would be Dashiell Hammett's

The Maltese Falcon

.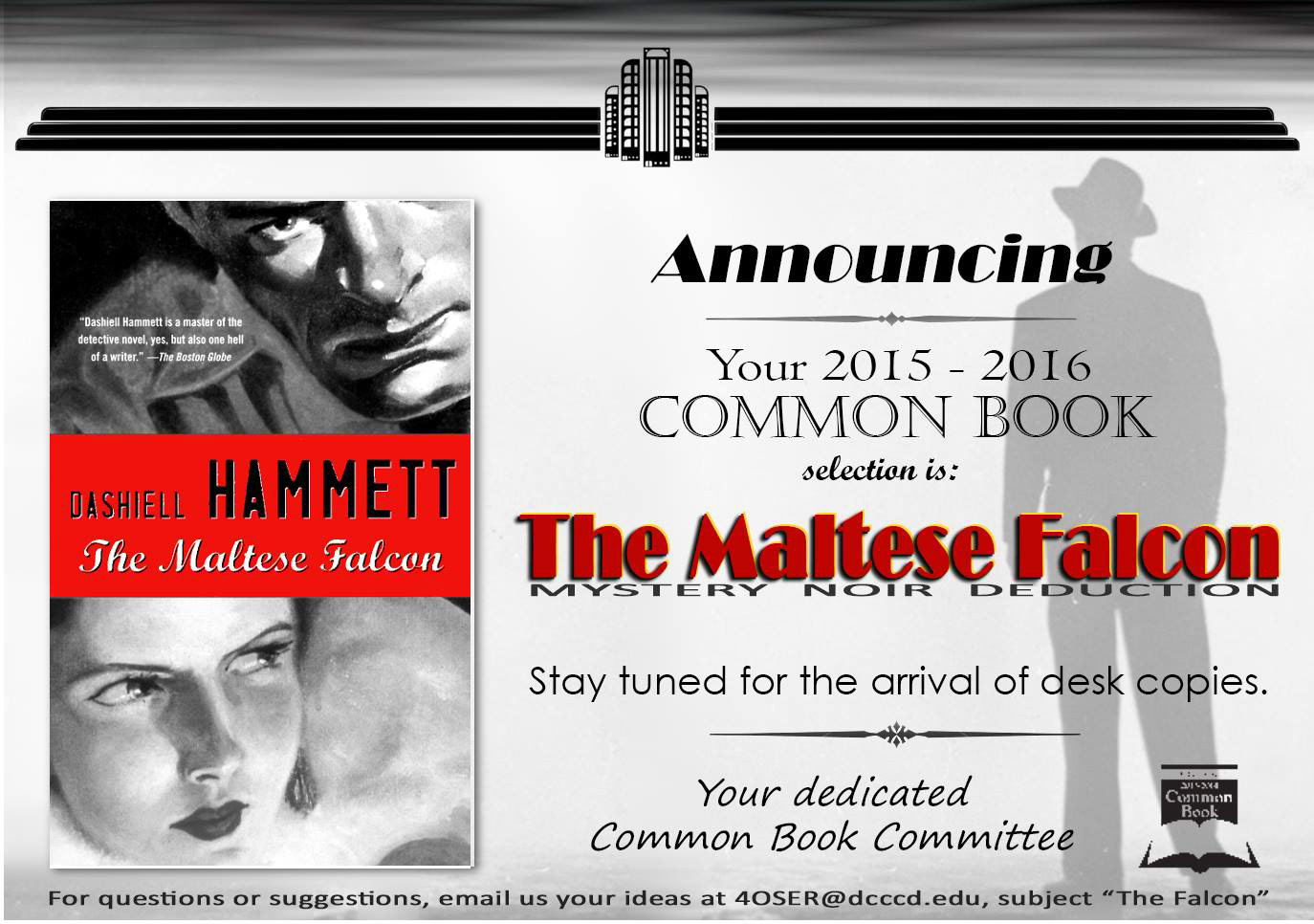 English Composition Teaching Assets
To support student learning and retention, I began creating infographics, brochures, and posters to present complex course material in a more accessible way. This tri-fold condenses a four-weeks of instructional content into a simple process analysis for completing the assignment that finishes the learning module. 
Using this handout, students can follow the process and ensure that they complete the assignment correctly.
This was originally created for the Jaguar Gateway Program, a joint-campus initiative accelerating CORE completion through an intensive summer bridge program, designed to support underserved and underrepresented students. On that project I served as faculty coordinator, instructional designer, as well as course facilitator.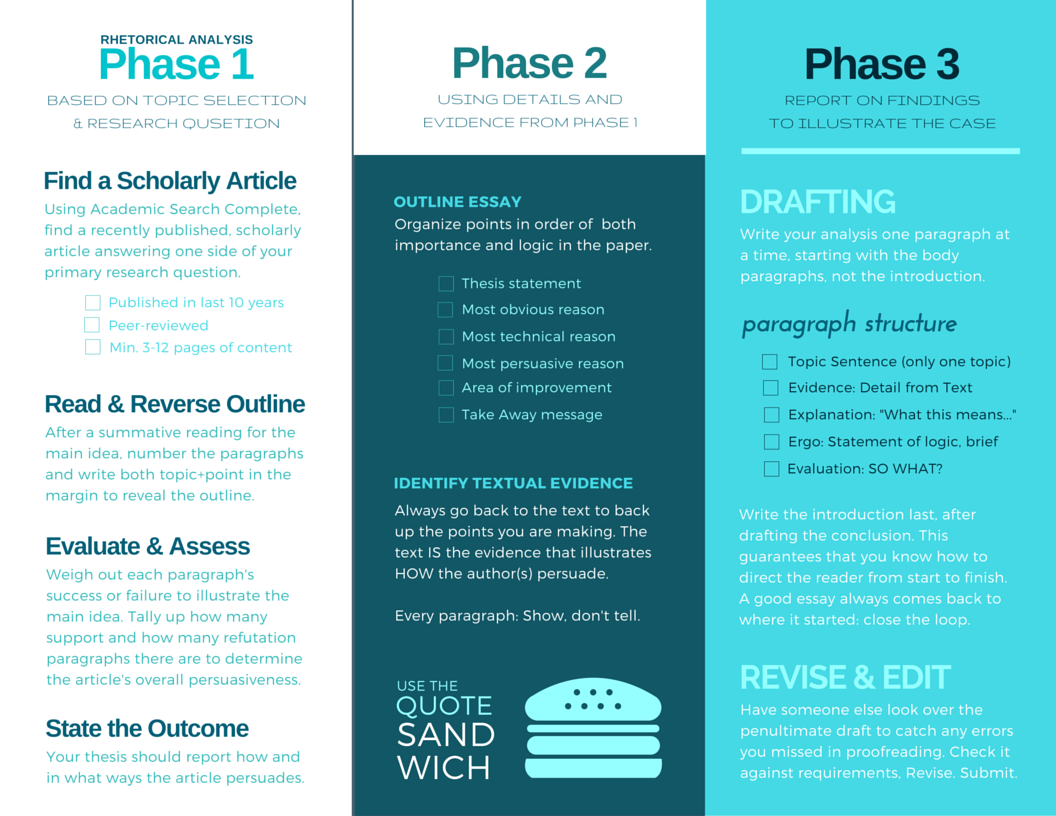 This handout was also created for the Jaguar Gateway Program. It was designed to help illustrate key concepts that students must address in their first quarter of Composition I & II, analyzing visual argument and Aristotle's rhetorical appeals.
Because the class focuses on scholarly investigation and ethical argumentation,  the assignment handout presents students both with visual examples of rhetorical appeals and lines of inquiry their essay should be able to answer.
Like the tri-fold above, this handout synthesizes four weeks (one quarter) of a 16-week college English course.
For more examples of learning materials, see additional project pages.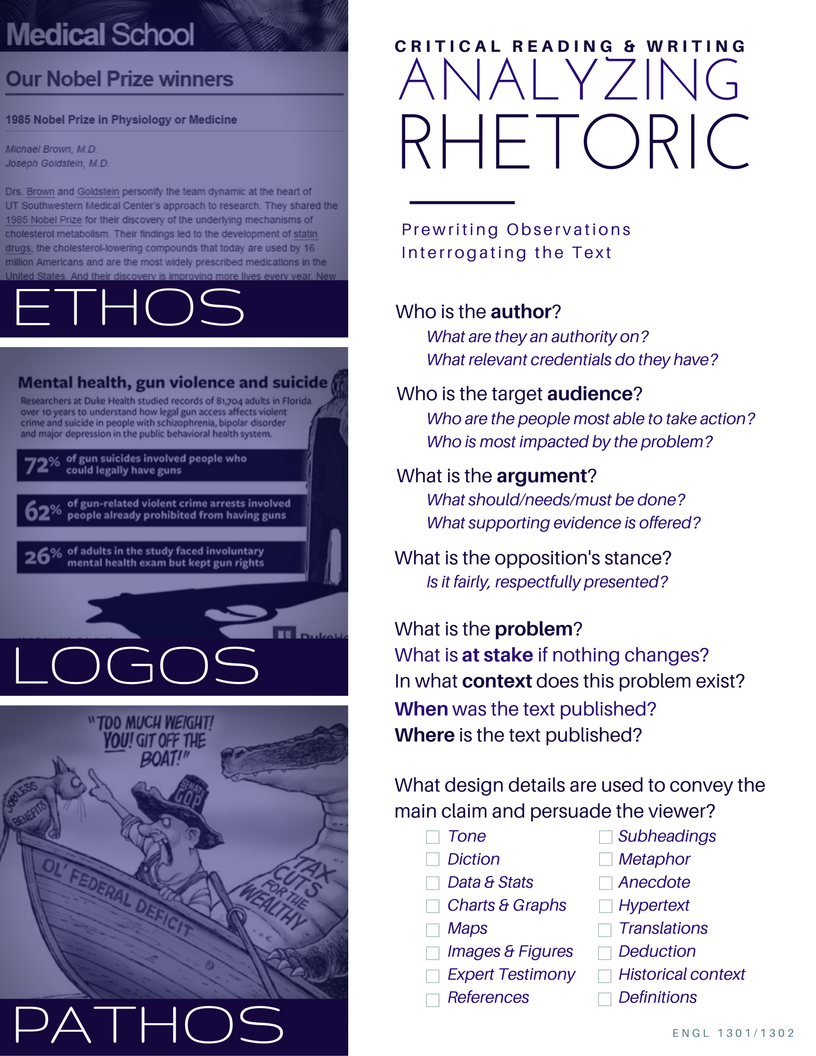 Enrollment Graphics & Social Media Promotions
While serving as the English Faculty and Dual Credit Coordinator, I produced promotional assets to use on social media to encourage enrollment in 2000-level English courses, which are elective courses. Because elective courses have lower enrollment than CORE classes like English 1301 & 1302, these graphics were strategically used on multiple media sites as well as the college app between and during peak enrollment periods.
I created and promoted graphics like this one for other English faculty, as well, to help their classes make.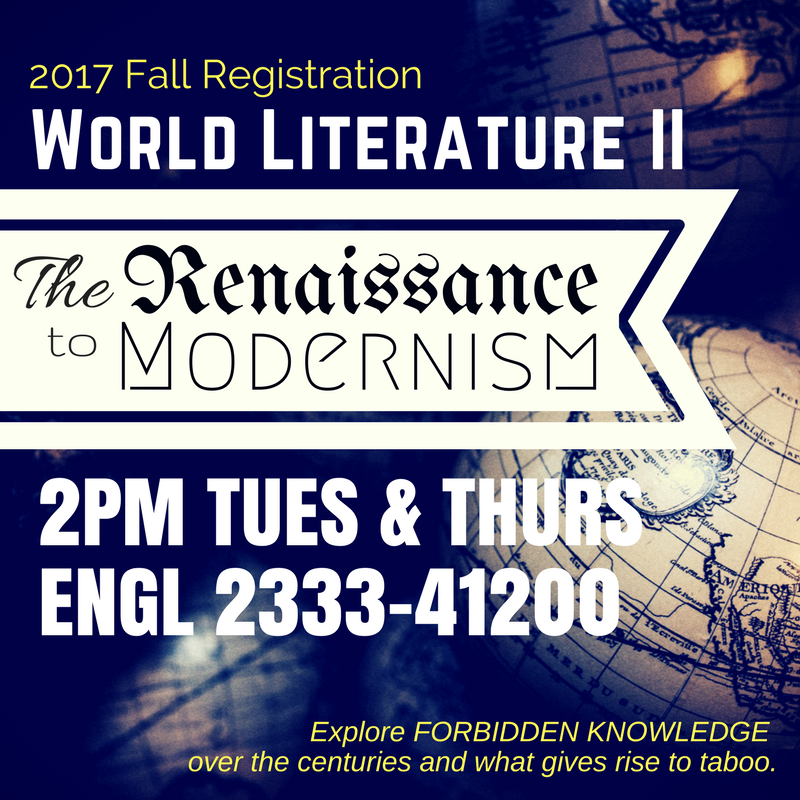 LMS Management & Course Package Design
The following banners were created for eCampus course shells and community pages as part of LMS management of the English Faculty organization, as well as my regular instructional design and eLearning course development.
Because students (and faculty) are adapted to the visual aesthetics of digital media, I created and used graphics like the ones below for all announcements, content areas, web links, and other resources within Blackboard and other internal communications.
The course package I designed and piloted for English faculty offered access also to all of these assets, making then available to each of the 60+ instructors teaching in the discipline.














Camtasia: Online Introductions & Tutorials
For online, self-paced, and hybrid courses, I created a series of FAQ video tutorials using Camtasia. One of those videos was an introduction to the course's Embedded Librarian, the 2016 Innovation of the Year at Eastfield College. To make sure students who were online had introductions to their instructor, librarian, and writing consultant, I produced a number of streaming videos that have been embedded into the eCampus Blackboard course package. 
These are the cover slides for one of the videos.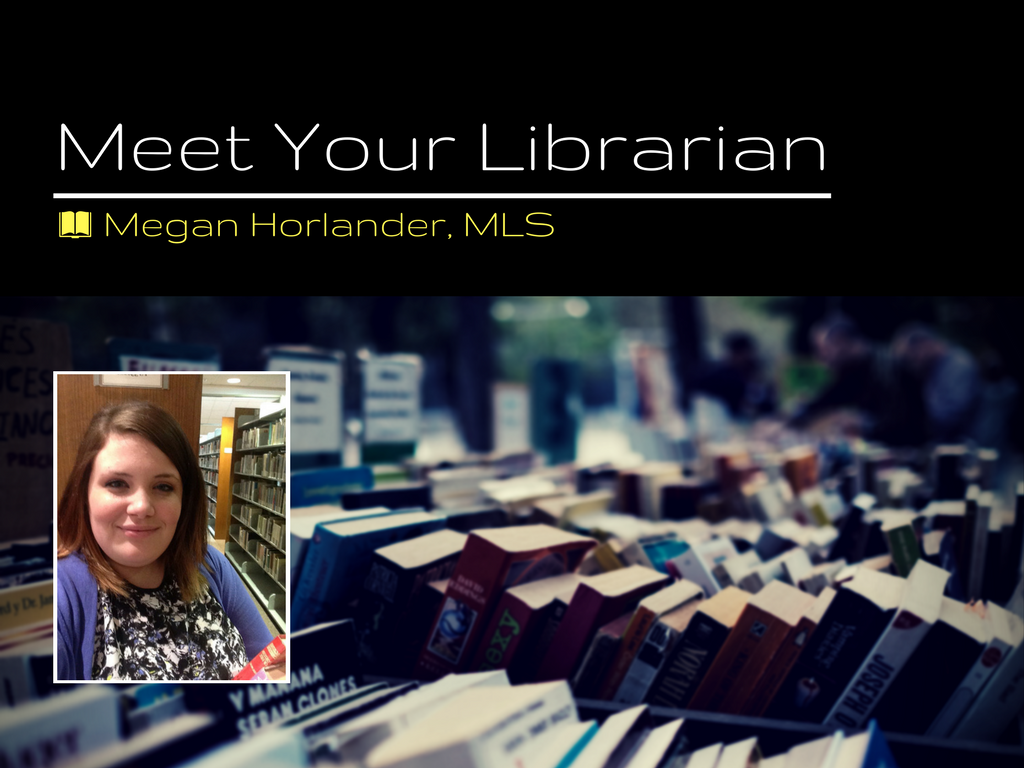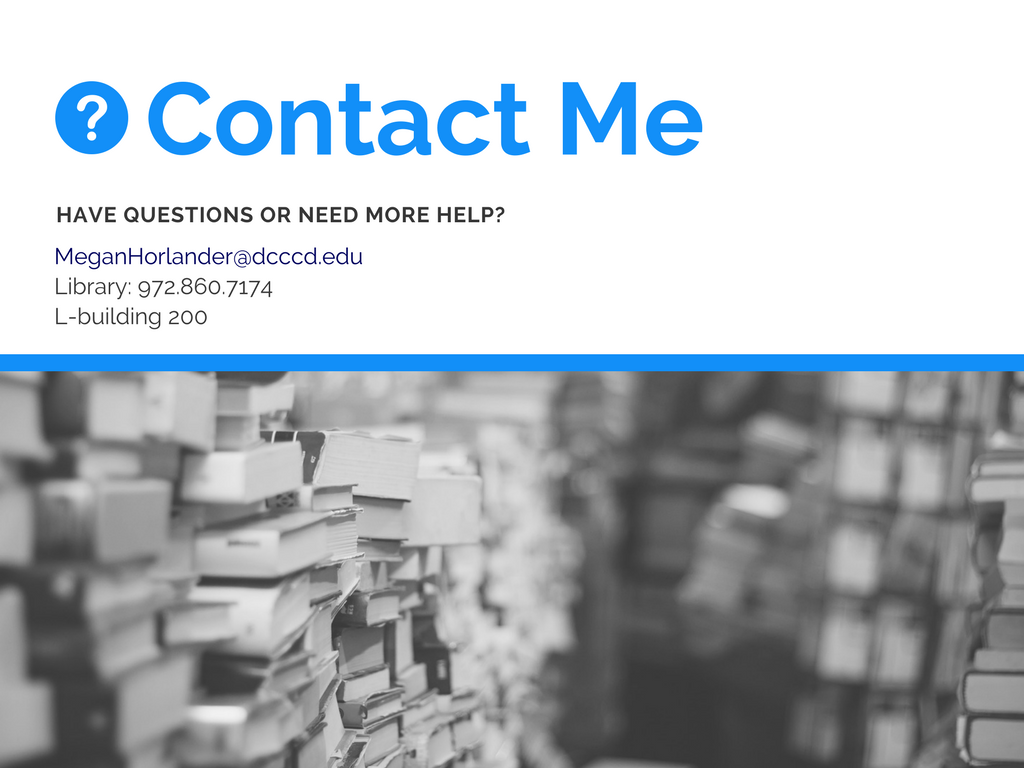 Internal Email Communications
During my time as coordinator, I also organized extra curricular events to promote connection and community among faculty, who often do not have time or opportunity to see each other during the school day, if at all during the semester apart from in passing. 
To help keep the team of 60+ faculty, including 15 full-time, over 20 part-time, and over 20 dual credit professors, I created graphics for email communications like birthday wishes, invitations to happy hours, and even for compliance emails. While it might be considered an unnecessary flourish for coordination emails, I felt it added a bit of richness and dynamism to otherwise ordinary correspondences.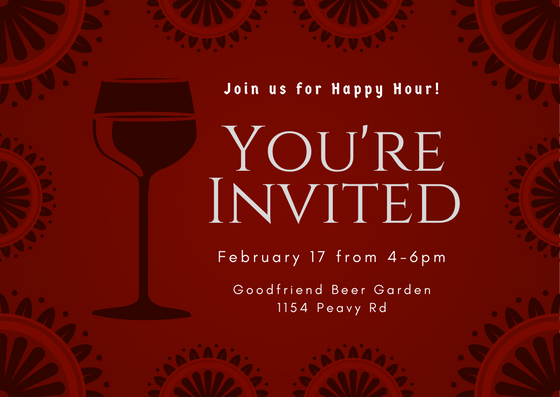 Graphic Promotion & Event Organization
In this project promotion, I collaborated with the Technical Theatre Director and the Arts Collective Director at the college to produce a reading series. This is the second event in its inaugural year. Together, we staged an abridged reading of

The Complete Works of William Shakespeare Abridged

(abridged), with two guest artists from the local arts community.
To get the word out through email, social media, and flyers, I created this graphic to look like an event ticket. The college's official logos were then added as a lower banner to meet district marketing standards.